About Us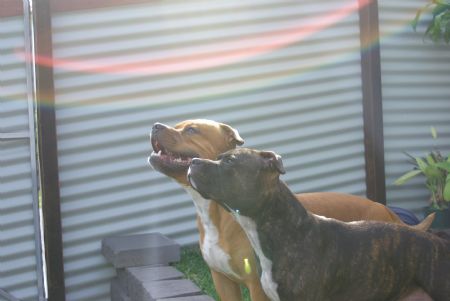 Anyone who has known Kelly and I as a couple has also known we are firmly dog people and Stafford's are our dog of choice.
Kelly decided she wanted to surprise me for my birthday and that surprise was Arnold.
I could write pages on this beautiful crazy loving ball of brindle muscle who's friendship and love I'll cherish till the day I die.
Arnold was the first out of the box first to bark loud cheeky cocky pup that was impossible not to love.
He was blessed to come into a house hold that was full of large physical people who encouraged and met every playful persistent game he could devise.
Arnold once tug a wared for over 10 hours straight wearing out every person in the house hold in the process, was he intense and persistent "HELL YES "
Arnold was very vocal as a pup and Kelly one night attempted to get Arnold to speak using and encouraging him to use different tones.
The result was Arnold could and would speak, his clearest words were I LOVE YOU and HELLO though there were many more phases he tried with varying degrees of success.
Many a bet was won by people claiming they knew a talking dog, Arnold was always happy to oblige.
My cousin Gavin did extremely well on one such occasion, when Arnold ran up to his door and announced our arrival with a huge HELLO the expletives that followed from the people of the wrong side of the bet was hilarious.
Arnold could be naughty like any great Stafford it's in their DNA, he went through a faze as a young dog where he destroyed the last thing you touched before leaving the house.
Game console controls remotes etc but his greatest act of destructive madness was a bag full of feather dusters that Kelly's dad (THE Yowzer) had collected over the years. He'd collected them to decorate his headbands and he'd gathered every colour and size of feather you could think of.
We returned home one afternoon from the gym and when we got to the door there was no Arnold at the door, very unusual. Upon opening the door we called to the little sod and he was already sitting on his naughty chair, then we saw it. Just two coloured feathers at the open doorway to the Yowzer's bedroom, in dread we walked to the doorway. I still laugh at the utter destruction he wrought upon that defenceless rainbow of feathers and a smile crosses my face at the pure joy and ecstasy Arnold must have had in his orgy of destruction. The pile of feathers was over a foot deep and completely covered the queensize bed in the middle of the room and feathers kept showing up for years to come.
As I said I could write pages on this wonderful littleman but I'll leave you with this
I suffered a injury that in the end cost me my leg, I went through 10+ years of surgery and hellish pain and I had two constants that got me through each day Kelly the love of my life and Arnold a once in a lifetime dog.
If you met Arnold you loved him and he blessed us with 17 years of joy.
What more could you ask of a dog
R.I.P Arnie you were a great mate.
Contact Details
Ken Cox & Kelly Allen
Sippy Downs, QLD, Australia
Phone : 0754456147
Email :
[email protected]